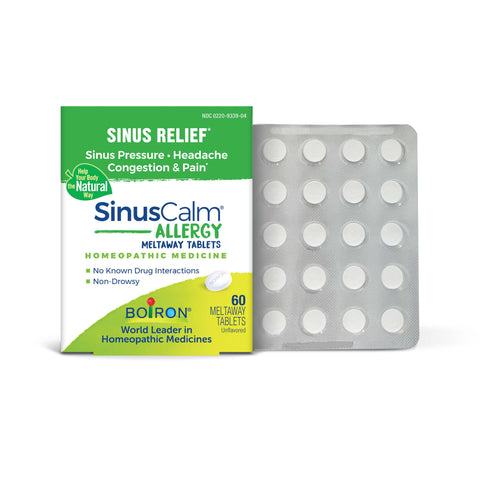 SinusCalm Allergy Tablets
Melt seasonal sinus pain away with SinusCalm Allergy by Boiron. Unlike conventional medications that mask full-blown symptoms, SinusCalm Allergy works with your body to relieve nasal congestion, sinus pressure and pain, plus sinus headaches caused by allergies.* These non-drowsy meltaway tablets are phenylephrine-free and won't interact with other medications, including those for allergies — one of the main causes of sinus congestion. *Claims based on traditional homeopathic practice, not accepted medical evidence. Not FDA evaluated.
Homeopathic, phenylephrine-free sinus medicine.

Targets sinus pain with a runny or stuffy nose triggered by pollen, dust, mold, pets, and other allergens.*

Non-drowsy; non-habit forming.

No risk of rebound congestion or interaction with other medications or supplements.

Tablets melt under the tongue without water, chewing, or swallowing.

For adults and children ages 6 and up.

Gluten-free; no artificial sweeteners, flavors, colors, or preservatives.

Box contains 60 unflavored tablets.

HSA & FSA eligible.

Boiron also offers AllergyCalm™, Optique 1®, and ThroatCalm®.
---