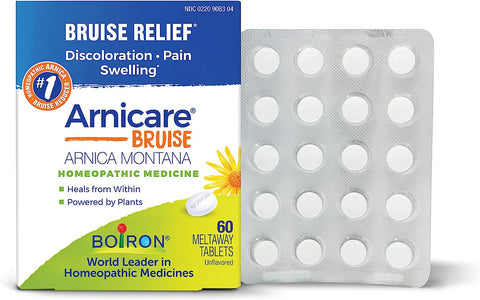 Arnicare Bruise tablets - 60 ct
ARNICA FOR BRUISES: This homeopathic medicine helps temporarily reduce symptoms of bruising such as discoloration, pain, swelling.

EASY TO TAKE: These discreet and easy-to-take unflavored meltaway tablets melt in your mouth without the need for water.

PLANT-BASED ACTIVE INGREDIENT: The Arnica montana plant is a natural pain reliever. This popular homeopathic medicine temporarily relieves muscle pain & stiffness without unwanted drowsiness.

HOMEOPATHIC MEDICINE: Uses highly diluted biological, botanical, or mineral substances to relieve symptoms. Our tablets, pellets, & topical treatments work with your body without the risk of contraindications, or known drug interactions.

FIRST SIGN: Before pain gets in your way, treat it naturally at the first sign with Arnicare and feel better faster. Arnicare helps to relieve muscle pain and stiffness and to reduce pain, swelling, and discoloration from bruises.
---