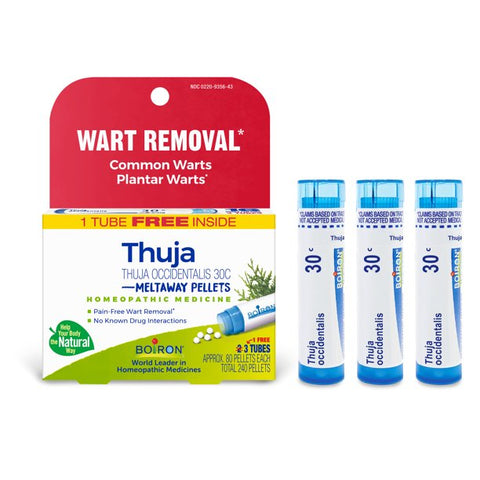 Boiron Thuja Occidentalis 30C Bonus Pack, Homeopathic Medicine for Wart Removal, Common Warts, Plantar Warts, 240 Pellets
Customize your care with a Boiron single medicine like Thuja occidentalis 30C. It provides a pain-free alternative to remove common warts on the body or plantar warts on the soles of the feet.* Made with a single plant-based active ingredient of white cedar, Thuja offers an oral form of wart removal instead of messy liquids, freezing, or patches. The unflavored meltaway pellets dissolve in the mouth without water, making them easy for children, teens, and adults to take. (BoironUSA.com) *Claims based on traditional homeopathic practice, not accepted medical evidence. Not FDA evaluated.
Pain-free wart removal in an oral meltaway pellet that's easy to take without food or water.
Ideal for children, teens, and adults with active lifestyles — no messy liquids, freezing, or patches.
Includes three easy dispensing tubes of Thuja occidentalis 30C for the price of two (48 doses total).
Made by Boiron using the highest quality ingredients and sustainable practices.
No artificial colors, flavors, sweeteners, or preservatives.
---