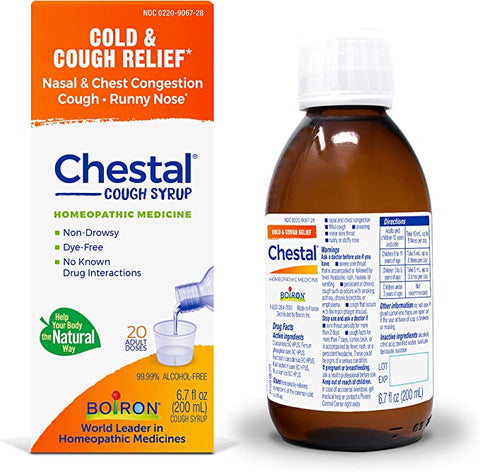 Chestal Cold & Cough
Chestal Cold & Cough's multi-symptom formula targets symptoms of the common cold such as nasal and chest congestion, cough, runny or stuffy nose, sneezing and minor sore throat.

Chestal is a dye-free, kid-friendly syrup and is recommended for everyone ages 3 and up. It does not cause drowsiness or interact with other medications. Chestal Cold & Cough works best when taken at the first sign of cold and cough symptoms.

Chestal is your day and night solution—calming those dry, fitful coughs at bedtime so they don't prevent sleep, but without drowsy side effects for the day.

Chestal Cold & Cough's natural active ingredients include Dulcamara 5C (Relieves colds and coughs worsened by exposure to damp cold), Ferrum phosphoricum 9C (Relieves colds with gradual onset, minor sore throat, and dry, fitful cough), Hydrastis canadensis 9C (Relieves colds and cough associated with runny nose), Kali bichromicum 9C (Relieves nasal discharge) and Nux vomica 9C (Relieves sneezing attacks).

At Boiron, we believe there's more than one way to feel better. Since 1932, the Boiron family has been committed to providing quality medicines. As world leader in homeopathy, our passion is your health. Our promise is your satisfaction.
---