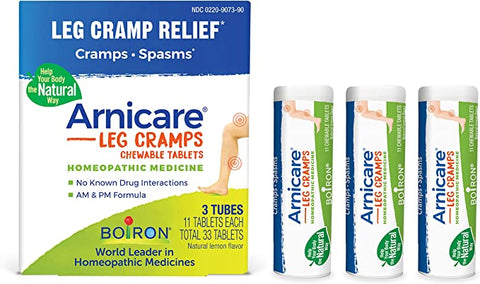 Arnicare Leg Cramps
ARNICA FOR PAIN: This homeopathic medicine helps temporarily relieve muscle pain & stiffness due to minor injuries, overexertion & falls. Also great for pain, swelling, & discoloration from bruises.

RELIEVE CRAMPS: Arnica Leg Cramps chewable tablets are easy to take & help temporarily relieve day & night cramps & spasms in calves, legs, thighs, & arms, & cramps from muscular overexertion.

PLANT-BASED ACTIVE INGREDIENT: The Arnica montana plant is a natural pain reliever. This popular homeopathic medicine temporarily relieves muscle pain & stiffness without unwanted drowsiness.
---