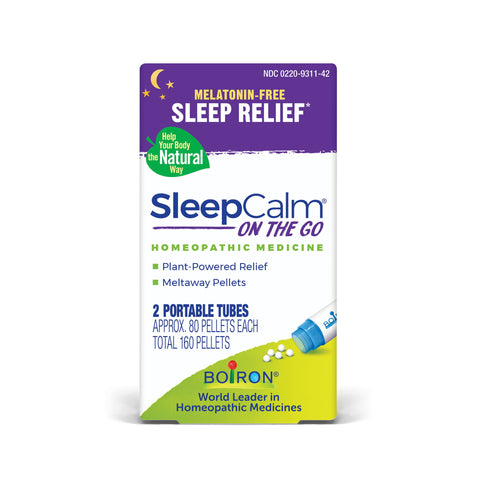 SleepCalm On the Go
Find relief wherever you go with SleepCalm On the Go by Boiron. This homeopathic sleep aid is powered by plants to calm occasional restless sleep and help restore a natural sleep pattern disrupted by worries or nervousness.* It's melatonin-free, so you can fall asleep and stay asleep without next-day grogginess. The meltaway pellets are convenient to take without water at bedtime, and can be taken on an empty stomach. For ages 12 and up, SleepCalm On the Go pellets are offered in convenient, portable tubes for relief that travels with you. (BoironUSA.com) *Claims based on traditional homeopathic practice, not accepted medical evidence. Not FDA evaluated.
Plant-powered meltaway pellets dissolve in your mouth to relieve occasional sleeplessness, restless sleep, and intermittent awakening.*
Compact and portable tubes for home, work, or travel.
Melatonin-free for no next-day grogginess.
Non-habit forming; no known interactions with other medications or supplements.
Recommended for adults and children ages 12 and up.
No artificial sweeteners, flavors, colors, or preservatives.
HSA & FSA eligible.
Boiron's sleep relief line includes SleepCalm Meltaway Tablets, as well as SleepCalm Kids Pre-Measured Liquid Doses and SleepCalm Kids Meltaway Pellets for children ages 3 and up.
Also try StressCalm® for daytime symptoms of stress.
---